Apr 10, 2008
The mix begins on Alcott, a two-hour docudrama about Louisa May Alcott for American Masters, scheduled for air in 2009. Finishing the score means the end of a long stretch of hard work, and Sheldon looks forward to his first day off since Christmas. Hooray.
Apr 6, 2008
Following the success of last year's commission, the Rivers Conservatory again premiers a new percussion piece by Sheldon at their 30th Annual Seminar on Contemporary Music for the Young. Written for his twins, Cal and Jules, Hippo's Holiday is a short piece for two players using marimba, glockenspiel, vibraphone, xylophone and woodblock. Hippo, by the way, is a cat.
Feb, 2008
Sheldon finishes up work on two new episodes of Strange Days on Planet Earth, a National Geographic mini-series, narrated by Edward Norton. The two new hours will air in the spring of 2008 on PBS.
Jan 8, 2008
The year begins with the premier of a new half-hour comedy show for Starz, Hollywood Residential. Produced by old friend Andy Lerner (with Principato and Young) and starring Adam Paul, the show is one of two new episodic comedies from the premium channel. Sheldon provides the score for all eight initial episodes.
Nov, 2007
Sheldon finishes work on Renewal, a film by Marty Ostrow and Terry Rockfeller (Eyes on the Prize) about the budding religious-environmental movement.
Sep 11, 2007
Nina Davenport's Operation Filmmaker premieres at the Toronto Film Festival, to terrific reviews. Score by Sheldon.
Apr 28, 2007
Sheldon's piece for percussion ensemble Marimba! Magic! is premiered at the Rivers Music Conservatory's 29th Annual Seminar on Contemporary Music for the Young. The event is at least in part a family affair, as Sheldon's three children (Goldie, Cal and Jules) are all students at the Conservatory, and members of the ensemble.
Mar 12, 2007
Adam Zucker's Greensboro: Closer To The Truth premieres at South By Southwest. The score features Sheldon and good friend Duke Levine on guitars, guitars, guitars.
Oct 18, 2006
Sheldon finishes work on Tod Lending's Aimee's Crossing.
May 3, 2006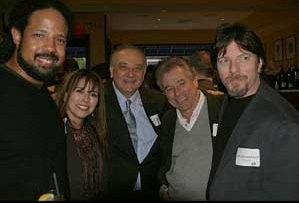 ASCAP sponsors a Film Music Dinner at the Tribeca Film Festival, with 15 composers, 15 filmmakers, and 10 artists performing at the ASCAP Music Lounge at the festival. It is an excellent opportunity to catch up with friend Mason Daring and drink with new friend Angelo Badalamenti. Here is Sheldon with (from left) music supervisor Barry Cole, ASCAP's Loretta Munoz, composer Angelo Badalamenti, and composer Mason Daring.
Apr 23, 2006
So Much So Fast wins the Audience Award at the Boston Independent Film Festival
Jan 20-25, 2006
Sheldon goes to Sundance with good friends and great filmmakers Steve Ascher and Jeannie Jordon. Sheldon did the music for their new film So Much, So Fast, which is in competition at the festival. Their last film, Troublesome Creek (which Sheldon also scored), won both the Grand Jury and the Audience Award when it was at Sundance - making it a hard act to follow. This time there are great screenings, parties (yea Chefdance!), and music at the ASCAP Music Café, but no awards. Sheldon and wife do get to hang out with Bruce Hornsby and show him around town after his excellent set at the Music Café. Also get to meet Judy Collins and listen to the most wonderful Imogen Heap.
Oct 26, 2005
Work finishes on The Homestead Strike with Moxie Firecracker's Rory Kennedy and Jack Youngelson. Sheldon finally gets to go home. Wait, he is home.
Oct 18, 2005
Work concludes on Rx for Survival, a six-hour PBS "event" focusing on the crisis in, and the hopes for, global health. After five months of work with six separate production teams around the world, the music for the last show is completed and delivered with at least a few days to spare before airdate. Special thanks to Matt and Andreas for all of their excellent, hard work on the series. Andreas finally gets to go home. Seriously.
Aug 1, 2005
Ready or not, we are in the new studio. It is beautiful! However, electrical gremlins and some unfinished construction issues persist, and we are fully cranking on various projects, with airdates looming. This was supposed to be a move to increase our sanity...
May 28, 2005
Missing In America has it's world premiere at the Seattle International Film Festival.
May 4, 2005
Omar & Pete premiered at the San Francisco Film Festival on May 4th.
Variety review says:
"...The sharply assembled verité package packs considerable cumulative punch..."
May 1, 2005
Sheldon moves from Newbury Street, after 14 years, to his almost completed state-of-the-art new studio and office in a detached building by his house.
Farewell Newbury St, "...goodbye city life, green acres we are there".
Apr 15, 2005
Sheldon has started work on Rx for Survival, a six-hour, primetime television series produced by WGBH/NOVA and Vulcan Productions, Inc.
Dec 11, 2004
World Premier performance of Sheldon's setting of Psalm 118 ("pitchu li shaare zedek") by the University City Symphony Orchestra and the St. Louis Circle of Jewish Music. The piece, scored for orchestra, chorus and solo tenor, was commissioned by Shaare Zedek Synagogue on the occasion of its 100th birthday. Sheldon dedicated the piece to his mother, who was also able to attend the performance.
Nov 8, 2004
Mixing begins at Skywalker Sound for Omar and Pete. The atmospheric, jazz-based score features a jazz trio (upright bass, drums and bass clarinet/sax) augmented by mallets, percussion and electronics. Special thanks to drummer Dave Mattacks (Paul McCartney, Richard Thompson) and bassists John Lockwood (The Fringe) and Marty Ballou (John Hammond, Duke Robillard).
Sept 24, 2004
Great friend and most excellent writer/producer Andy Lerner flies in from LA with tickets to the World Series Game 2. In a Boston boys' dream come true, Sheldon and Andy see Curt Shilling pitch to victory over the Cardinals. Sheldon, however, a St. Louis native who sold his soul at the age of nine for a Cardinal pennant, occasionally finds himself instinctively rooting for the wrong team.
Sept 12, 2004



Sheldon attends the Primetime Emmy Awards in LA. No win, but he gets to sit with Philip Glass (also nominated) and hang out with Bruce Broughton (music category winner), Larry Groupé (another music nominee and fine composer), and Alf Clausen (same) at the post awards party. Here's a picture of Sheldon with Alf at the Society of Composers and Lyricists pre-Emmy party. An excellent time was had by all.
Sept 3, 2004
Work begins on Omar and Pete, Tod Lending's (Legacy) powerful new film about two lifelong cons, and pals, as they struggle to re-enter the world outside of prison.
Aug 31, 2004
Vibes virtuoso Gary Burton was in to record his parts for a new Livingston Taylor album, with arrangements by Sheldon. Recording has been in progress throughout the summer, with the orchestra arrangements being recorded at Avatar in NYC at the end of June, Sheldon conducting.
July 19, 2004
Sheldon has just finished the score for Missing In America. Mixing begins next week at Cyclops and Sound One in NYC.
July 15, 2004
Sheldon has been nominated for a Primetime Emmy Award in the category "Outstanding Music Composition For A Miniseries, Movie Or A Special (Dramatic Underscore)" with his score for The Nazi Officer's Wife.
May 3, 2004
Sheldon has just finished the music for the rollout of an upcoming FIFA Soccer game from Electronic Arts.
March 24, 2004
Sheldon has just been hired to score Missing In America - a feature film by Gabrielle Savage Dockterman, featuring Danny Glover, David Strathairn, Ron Perlman and Linda Hamilton.
March 17, 2004
Sheldon has just started writing the score to Doula, a one-hour documentary produced and directed by Danny Alpert, who Sheldon also worked with on the Academy Award-nominated Legacy.
March 3, 2004
Sheldon has just finished work on Strange Days On Planet Earth, a four-hour documentary series from National Geographic. Work on Strange Days began right after Thanksgiving, and it has been a long and hard process, with over 160 minutes of music written. Look for it on PBS early next year.